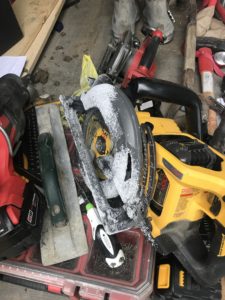 The DeWalt DCS577 worm drive style saw is not a new tool.  I bought mine in October of 2017.  I've been using it regularly, and enjoying the benefits of this powerful tool.  3 adjectives come to mind when people ask me about this saw.
This one is a big deal guys.  Seconds add up to minutes, minutes to hours.
Having powerful tools makes work go faster.
This is the most powerful handheld circular saw on the market, cordless or corded.  I have a lot of other saws, but none of them can cut as fast as this one.  When I'm doing repetitive cuts like rafters, stair stringers, header material and cripples, this saw saves me time, plain and simple.
Being cordless means less time wasted fighting the cord.
This one isn't immediately obvious to someone not currently living the cordless lifestyle.  If you count up the minutes you spend getting cords out, plugging them in, dragging them around, and ultimately compromising on where you can or can't cut materials, you'll see the advantages of using a cordless saw this powerful.  You aren't tied to one spot with an outlet.  With a couple of these saws and a gas powered compressor you can frame a house without even having power on site yet, and without a generator to maintain.  There are also advantages to not having a cord to fight when it comes to work flow.  You can just move faster and do more work when there's not a cord hanging off your saw to worry about hanging up on items or making contact with the blade. (We've all done it)
The batteries are efficient.
I only have a few of the Flexvolt batteries this saw uses.  I have 3 of the 6.0 batteries and if they're all charged at the beginning of a big day of use I don't have any troubles.
Part of being a tradesman is doing the best job you can.
I don't know about you, but I'll take all the help I can get.
With a fresh blade and a charged battery, the DCS577 will power through as many sheets of plywood or osb you can fit the blade through.  I gang cut plywood right off the stack for floors, walls, roofs, and straight cuts are a breeze.  No blade wobble, deflection, or any other weird stuff has happened to me, although there were a few guys saying they couldn't get a straight cut with theirs because of the push angle of the saw.  Your results may vary but I've never noticed any inconsistencies at all.
The rip guide available separately for this saw is the best on the market.
Dewalt sells the DWS5100 Dual port rip guide for this saw, and it is KILLER.  I use it all the time, and it has kept me from having to get my table saw out at least 100 times.  Need to make some accurate rips for furring strips? No problem.  This is one of the biggest advantages of this saw and cannot be overlooked.  Efficiency and accuracy go hand in hand here, and you don't have to sacrifice one for the other.  I'm going to add an affiliate link to the rip guide, because I had a little trouble finding this accessory when I was in the market for it.  (I'll get a little commission if you buy it through the link, so thanks!)
Safety is our number one priority on any job.
Improving safety anytime possible is a no brainer.
Cords laying about on a job site present hazards.  Someone could trip and fall.  Someone could get shocked.  OSHA could decide your cords aren't in proper condition and issue a fine.  You could be pulling on the cord and knock something over, causing damage.  There are many ways a cord can cause problems, so why not eliminate the risk anytime it's possible?